Welcome to Madison Avenue Villas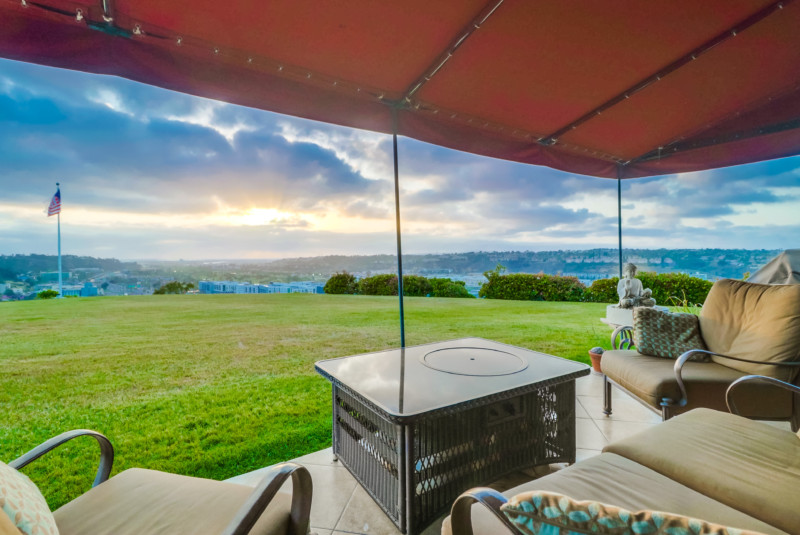 …a private condo complex located in University Heights, high above TGIFridays at the intersection of Hwy 163 and Hwy 8. Our unit is visible from the freeway, just behind the large American Flag. (to read home and community features scroll to bottom of page)
These high quality condos were constructed many years ago but still appear near new. Everyone living in San Diego has seen them perched high on the hill above TGIFridays, the Xerox building and Bally's Total Fitness.
Our rental unit is the northern most of the condos that face west. This unique location provides us with a large green grass yard in front of our unit. We can see 180 degrees to the west, and 90 degrees to the northeast without anything in our way. There are no poles, no wires, no buildings. Absolutely nothing, except for an occasional hawk looking for lunch. 270 degrees of ocean air flowing east while you watch one gorgeous sunset after another. When the occasional winter storm blows in over the ocean, you see the rain moving in. During the floods we seem to have every 5 or 10 years, you have a bird's eye view of how nature really works. It is as though you are in a weather balloon high above the valley floor.
We could never decide if the nighttime view of the hot spots in Mission and Fashion Valley was better than the daytime views out to the ocean. Both are breathtaking. It is impossible to find a better view at this price point. It must be seen to be appreciated.